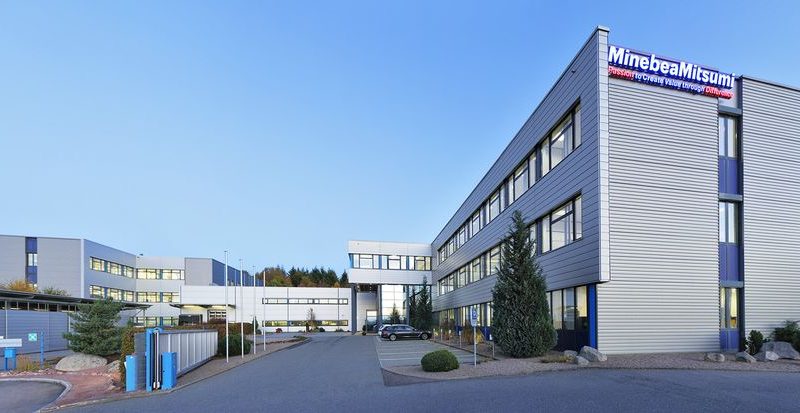 In 2021, MinebeaMitsumi Technology Center Europe (abbr: MTCE) proudly looks back on 30 years of company history. The German development center, then known as PM DM, was founded in 1991. At its former location in Spaichingen the company started developing hard disk motors. Since 2000, MTCE has been at home in Villingen's industrial area "Auf Herdenen". The site became the European development headquarters of the parent company MinebeaMitsumi in 2019. With a workforce that now numbers almost 460, it is no longer just motors and drive technologies that are developed here, but also numerous other products, including LED backlights and sensor systems. The areas in which the products developed in Villingen are used are as diverse as the products themselves. Development work is carried out, for example, for the automotive industry, especially in the field of electromobility. But the fields of power tools, robotics and automated logistics are also growing business areas.
Managing Director Jörg Hoffmann, who is also the European head of the international group, sums up positively on the occasion of the company's anniversary: "In the last 30 years, we have made many right choices and courageous decisions and have thus achieved an exceptional position in the MinebeaMitsumi Group. In 1991, probably no one would have thought that here in Villingen-Schwenningen we would become the European development headquarters of the Group. Or that our street would be renamed Minebea-Weg."
One of the most important milestones in the company's history was 2010, the year in which MTCE developed beyond its function as a pure development center. For the first time, it produced its own BLDC motors in Bratislava, Slovakia, and successfully launched them on the market. Today, a big part of the production takes place at the largest and most important European production plant in Košice, also in Slovakia, which opened in 2018.
Probably the most significant challenge to date came in 2019 with the acquisition of the U-Shin Group – MTCE thus became the headquarters for a total of 22 European production and development sites. Within the new tasks, the ongoing Corona crisis of course also presented MTCE with new challenges. But the company's success story continued even during this phase. "While numerous companies had to struggle with heavy losses, especially in the automotive sector, MTCE was able to continue bringing new products to market. Our team is really doing a great job here," says Jörg Hoffmann. There is only one small downer on the occasion of the company anniversary: "Unfortunately, we could not have a big celebration with our employees this year. But we would like to make up for that as soon as circumstances permit."
The MinebeaMitsumi Technology Center Europe GmbH team continues to grow and is looking for new colleagues in numerous areas. All open positions can be found at www.minebeamitsumi.eu/karriere.