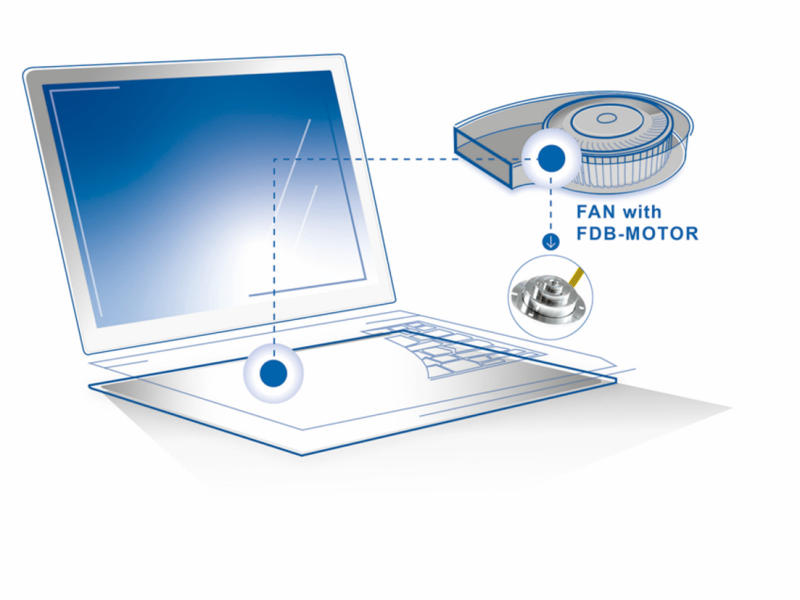 The song "Enjoy the silence" by the British band Depeche Mode took the charts by storm in the early 1990s. Today, the song of the pioneers of synth rock could be describing the new generation of PC fans with FDB technology by MinebeaMitsumi.
Scarcely audible, the fans guarantee cooling for PCs, laptops and other electronic devices. FDB motors with fluid dynamic bearing technology have been driving hard discs for decades. They are the perfect choice for numerous other applications in which low vibration, long service life and low acoustic levels are required. These applications also include laser scanners. Power consumption can also be significantly reduced. FDB motors are special BLDC motors whose bearing technology is not based on balls, but on liquids; more specifically, on special oils. It is thanks to the beneficial properties of this drive technology that the hard disk manufacturers have been able to increase their storage capacities up to more than 20 TB per hard disk until now. Numerous test runs are already integrated during the development phase in order to ensure optimal radial and axial run-out and to minimize the non-repeatable impact. The bearing gap between shaft and bushing is miniscule. A special oil circulates in this gap. The bushing itself is made of a specific material to prevent wear and friction, which greatly extends the service life. The component quality and accuracy must meet the highest standards for mass production. A high degree of precision is required and therefore the production takes place in clean rooms.
Now users of laptops and PCs can enjoy the silence of their devices. A barely perceptible whisper of the air flow, which is caused by the fan wheel, is the only noise noticeable. It is thanks to the rigidity of the motor that there is not even any vibration. The advantages of fans with FDB motors are low energy consumption, barely perceptible motor noise, less vibration and a long service life. Previous fans usually worked with plain or self-lubricating bearings, which however wear out, become louder and start vibrating during their service life.